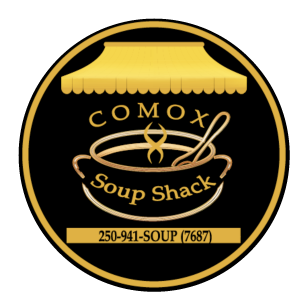 Comox Soup Shack
215 Port Augusta, Comox

@

Soup and Sandwich Special



Comox Soup Shack
215 Port Augusta, Comox
---
Be Well ~ Eat Soup. The Comox Soup Shack is a dine in and take out restaurant that serves daily soups, sandwiches, sausage rolls, pepperoni sticks, calzones, cinnamon buns, cheese scones and salads.
The selection of FROZEN to go items includes Cabbage Rolls, Chicken Pot Pies, Moussaka, Spinach & Shepherd's Pies and Lasagna. Daily features are updated on their Facebook page.
---
DINE AROUND Feature – Lunch Special
$25 per person

Soup… Sandwich… baked goodies… coffee or tea..
---
OPEN:
10:oo am to 4:00 pm