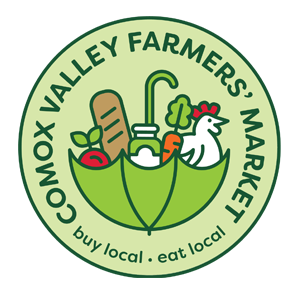 Comox Valley Farmers' Market
360 Cliffe Avenue
Comox Valley Fall Farmers' Market – Saturdays:
Native Sons' Hall
360 Cliffe Avenue, Courtenay

---
The Comox Valley Farmers' Market has been a community institution since a group of local growers organized in 1992 and began selling their produce directly to their friends and neighbours. Over 30 years later, a handful of original vendors are now joined by dozens of new food producers every Saturday.
Vendors at this market provide everything needed to fill a pantry – from farm fresh produce and locally produced food items, to beef, chicken, and turkey and seasonal bison, rabbit, duck, goose, and tuna. The market gathers on is on the Unceded Traditional Territory of the K'ómoks First Nation, the traditional keepers of this land.
You'll find some fun small plate and beverage pairings when you visit the market stalls and explore amazing local tastes!
---
OPEN
Saturday only from 9:00 am to 1:00 pm