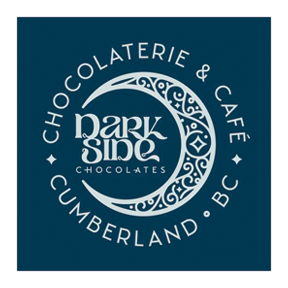 Dark Side Chocolaterie & Café
2722 Dunsmuir Avenue
Dark Side Chocolaterie & Café

2722 Dunsmuir Ave, Cumberland  V0R 1S0
---
This boutique chocolaterie and café is located downtown Cumberland. Their chocolates are proudly made by hand in small batches and their truffles and confections are as beautiful to behold as they are delicious to eat!
They aim to bring you the joy of authentic flavour; provide you with a true chocolate experience by using real food ingredients and the best organic, fair trade chocolate. Chocolate artisans Allison and Jaime create everything with love and magic for you to enjoy!
---
Island Taste Trail Feature
Honey Grove Sourdough Croissant
Paired with: Dark Side's rich Sipping Chocolate, made in house with classic dark, or chili chocolate
Feature Price: $10.00 + tax
Available from 9 am to Noon. Vegetarian.
---
OPEN:
9:00 am – 5:00 pm
Wednesday | Closed