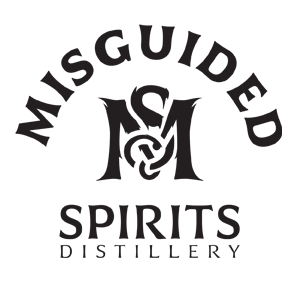 Misguided Spirits Distillery
18-1343 Alberni Hwy, Parksville, BC V9P 2B9
Misguided Spirits Distillery
18-1343 Alberni Hwy, Parksville, BC V9P 2B9
---
What's in a name? Misguided Spirits was a happy accident. After unsuccessfully trying on numerous names the word came up one day, in an unrelated conversation and owner Darrell Bellaart knew it was perfect!
What could be more Misguided than a mid-life career change? Darrell, a reporter and journalist for 25 years, took the plunge when the Nanaimo newspaper he reported for closed in January 2016. Making the news switched to making spirits – misguided indeed.
Their Brother XII Vodka, Spectral Gin and Rhubarb Ginger Gin Liqueur are available at the Tasting Room or by online order.
---
Island Taste Trail Feature
Try using the Misguided Spirits Brother XII Vodka to make an "Fall in a Glass" Apple Cider Vodka Cocktail.
Recipe:
1-2 oz Brother XII vodka
3 oz fresh apple cider
1 oz seltzer or club soda
1 teaspoon sweet fig jam
handful of ice
fresh figs, apple slices, orange zest, and/or cinnamon stick for garnish
How to Make an Apple Cider and Vodka Cocktail:
Put apple cider and fig jam into a cocktail shaker and shake well. For best results, you can also whisk the fig jam if it's not mixing well.
Add vodka and ice and shake again.
Add more ice to a small glass and strain the mixture into it. Garnish with fresh figs, apple slices, orange zest, and/or a cinnamon stick.
---
OPEN:
Monday to Friday from 9:00 am to 5:00 pm
Saturday from 1:00 pm to 5:00 pm