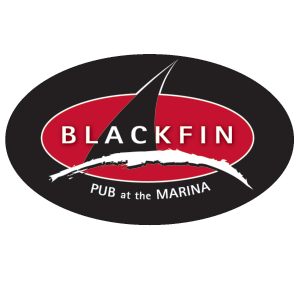 Blackfin Pub
132 Port Augusta St., Comox
Blackfin Pub
132 Port Augusta St., Comox
---
The Blackfin Pub offers relaxing dining, a global wine list, and a fantastic selection of craft beers. Delicious West Coast menu and panoramic oceanfront  located just steps away from the Comox Harbour.
When visiting Downtown Comox, they look forward to serving you with friends and family!
The feature is available Happy Hour from 3:00 to 5:00 pm. Gluten-free, vegan and vegetarian options available.
---
OPEN:
Tuesday to Saturday | 11:00 am – 10:00 pm
Sunday and Monday | Closed
---
Island Taste Trail Feature
Mix & Match
Choose any one drink and one appy for $25.oo + tax
Add a drink: $9.00 + tax
Choose one "Taste"

Bacon Mac & Cheese
or
Bacon crumble, three cheese Mornay, au gratin
or
Za'atar Crusted Tuna
Seared rare, sesame ponzu, wasabi aioli, microgreens
or
Egyptian Bean Dip
Pinto beans, tomato, garlic, olive oil, cumin, feta, grilled naan
Choose one (or 2) "Sips"
WINE (6 oz)
40 Knots White Seas
Beaufort Borealis
Hester Creek Estate Cabernet Merlot
COCKTAILS
Dockside
Vodka | lemonade | soda | muddled raspberries
Ginger Hibiscus Sour
Gordon's Pink Gin | ginger syrup | hibiscus syrup
lemon juice | egg white foam
Pretty in Pink
Pink gin | lemon | grapefruit | prosecco
Aperol Spritz
Aperol | prosecco | soda | orange twist
FLIGHT
Arrowsmith Blonde
Gladstone Hazy Pale Ale
Driftwood Fat Tug IPA
Beachfire Red Ember Ale