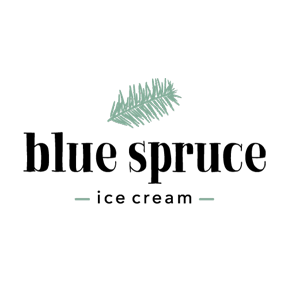 Blue Spruce Ice Cream
526 Cliffe Avenue
Blue Spruce Ice Cream
526 Cliffe Ave, Courtenay BC
---
Blue Spruce Ice Cream is the Comox Valley's must visit small batch ice cream spot.  Inspired by a walk in the woods, a dash of nostalgia and a little hometown pride, Blue Spruce is an homage to the amazing flavours and foods that come from right here. They proudly use locally sourced, artisanal ingredients in all our traditionally made, handcrafted ice creams and non dairy desserts.
Inspired as we are by our beautiful home, we do our best to offset our environmental footprint by using 100% compostable packaging whenever possible and are committed to recycling and composting everything we cannot reuse.
---
Island Taste Trail Feature
Taste fall in a custom ice cream!
Caramel apple ice cream with Granny Smith apples, roasted pecans and salted caramel sauce.  (cone or cup)
Feature Price:
By the scoop, $5.95 for a single, 7.90 for a double.
Looking for other fall flavours? They also offer caramels apples and pumpkin pie ice cream!
---
OPEN:
Tuesday to Sunday from 11:30 am to 6:00 pm
Closed Mondays