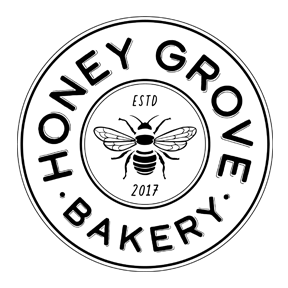 Honey Grove Artisan Bakery
2441 Cousins Avenue, Unit 4
Honey Grove Artisan Bakery
2441 Cousins Ave, Unit 4
Honey Grove Bakery is small artisanal bakery dedicated to the ancient art of naturally leavened sourdough bread and traditional French pastries using all organic, Canadian wheat.
They offer a beautiful array of delicious, hand-shaped croissants and pastries from their tucked away location near Tin Town. You can pick them up baked and ready to go or frozen to be baked in the comfort of your home, whenever you have a craving or to spoil your guests.
They are open for counter service weekdays.
---
Island Taste Trail Feature 1
Sourdough loaf of your choice
Paired with: Kefir water from Heavenly Libations
Feature price: $14.50 + tax
---
Island Taste Trail Feature 2
Decadent twice baked Croissant filled with Espresso Frangipane topped with Pumpkin Spiced Chantilly (or other decadent twice baked pastry of your choice), 1x Classic buttery Croissant,
Paired with: 2x Hot Chocolate Bombs from Dark Side Chocolates in Cumberland
Feature Price: $14.50 + tax
---
OPEN:
Monday to Friday | 9:00 am to 3:00 pm (or later if the signs are out)
Saturday | at the Comox Valley Farmer's Market – 9:00 am to 1:00 pm
Sunday | Closed